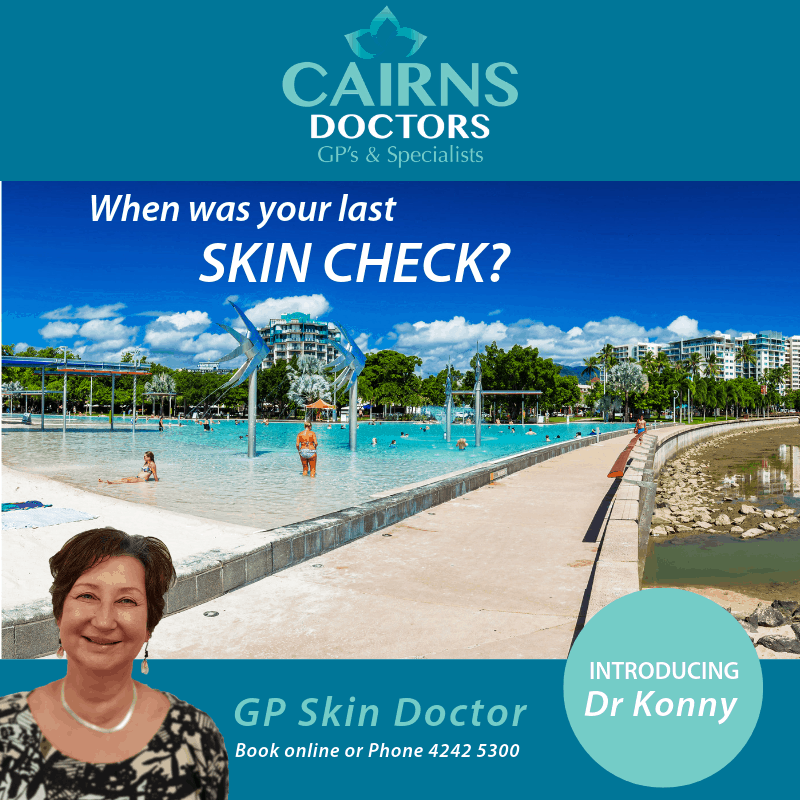 Welcome Dr Konny Komlovari!
Cairns Doctors is the practice that just keeps growing!
Popular local Skin Cancer Doctor Dr Konny Komlovari joined us today, adding more services and available appointments!
Having spent the last several years working exclusively as a Skin Doctor, Dr Konny is focused on providing the best care she can to our sun touched patients.
Dr Konny is currently only seeing Skin Cancer Doctor related patients, so please book online here or call and speak with our amazing Medical Reception team 07 4242 5300
Sadly, Skin Cancer and Melanoma rates are on the rise.
According to the Australian Institute of Health and Welfare,  Australia had the world's second highest incidence rate of melanoma, at 35 new cases a year per 100,000 people (slightly behind New Zealand, at 36 per 100,000).
This was more than 11 times as high as the estimated average worldwide rate (3 per 100,000) (Globocan 2012).
Melanoma is the fourth most commonly diagnosed cancer in Australia (AIHW & AACR 2014).
Evidence suggests that exposure to UV radiation increases the risk of developing melanoma, but the risk is not directly proportional to the level of exposure. Studies show a strong association between intermittent sun exposure and the risk of melanoma (Hacker 2011).
Skin cancer is a major cause of illness in Australia
Hospitalisations for skin cancer are on the rise
Survival from melanoma is relatively high
Melanoma is less common among Aboriginal and Torres Strait Islander people
There is substantial spending on skin cancer each year
You have to ask yourself this question, When was your last Skin Check?
If you can't answer or don't remember, give us a call today and ask for an appointment with one of our Skin Doctors.